Hi, I'm back after a short break. I've decided that I should do away with the rants and start creating again! I've more layouts to share to count down to the blog-anniversary! Not-so-new layout: Our Everyday Conversations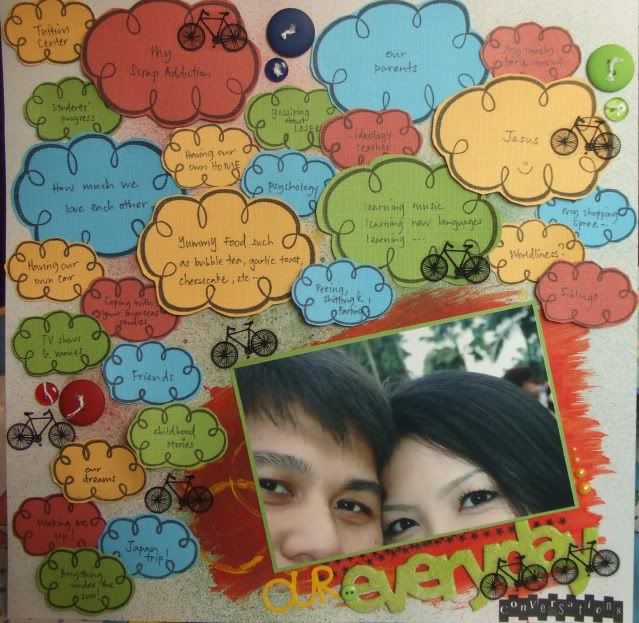 This is one of the most meaningful layouts I've done. It's very simple, done with only stamping on cardstocks with no pattern papers. Albeit its simplicity, it documents the everyday topics Yappy and I talk about. I wonder if we will ever run out of topics cos we're both soooo talkative! To be honest, he is one of the very few guys who can hold sincere, straightforward conversations with me without the impression management involved. Of course, I still prefer that he keeps the EGO in check at times. Otherwise, we share many 'intellectual' opinions about psychology research ideas, how to help manage our families well and most of all, how to help my tuition kids improve!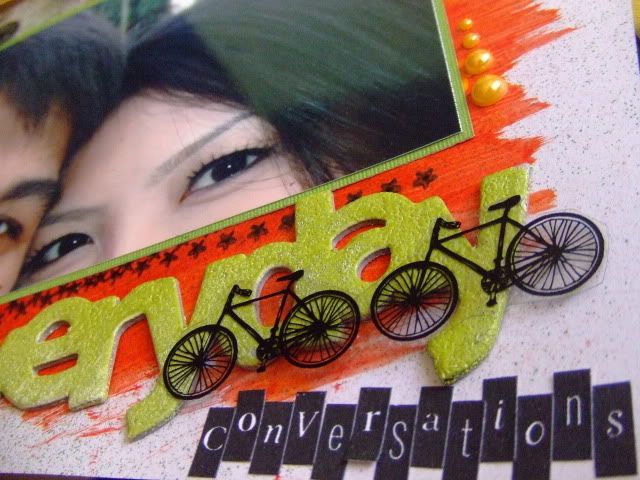 We have one of the most intriguing (not!) chats on the way home tonight. He was complaining that I don't seem to have time for him, my friends and sometimes my family. Then we started 'analysing' my schedule and I realised I spent way TOO much time with my tuition kids! I am not sure if I should be called a workaholic though because I don't get paid for the extra chats and outings with the kids! Ironically, I spend my happiest times with my 'kids'. (I was told by the kiddos not to call them kiddos anymore because they're going through puberty so I'm told to call them by their names. LOL as if I care!) Every time I spend time with them, I get all nostalgic when they tell me about their school lives which I have fond and bad memories of. Kids are the purest beings in the Abraham race. When they're angry, they show it by throwing tantrums. When they're sad, they cry. When they're happy, they laugh. I feel very real with them because I don't have to be extremely careful with words, don't have to put up with formalities and pretences, don't have to do what the world deem as appropriate, don't have to hide anything or lie, don't have to worry about people with ulterior motives. I can be at total ease with kids and this is without questions the best perk of my job. I don't get it when the adults around think that I've no prospects working as a tutor. Initially, I fought for this job that I love by telling them that this is no ordinary job because I'm going to change not the whole world but at least touch the lives of the kids under my care. I'm going to have my own center where I can put all the wonderful ideas into actions. After some time, I wear out and ignore people who do not share my view that I have one of the most enjoyable jobs in the world! Will I be happy working in an office with office politics and trying to close deals to fight my way to the top? Will I be happy having to entertain clients or bosses after work and rushing home to write reports? That is surely hell for me. What can be more fulfilling than helping smart students achieve their potential and the weaker students to improve leaps and bounds? What can be more fun than bringing the kids to outings where we play games and gain knowledge? What can be better than to chat with them about life lessons so that they can make wiser choices about the path they will soon have to take? They're so innocent and so full of potential for me to mould. Why will I want to trade this job for any other job in the world?
My dear Zhi, Boy boy, Bubu, Ron, Xiao Qing, Shuangyu, Shuanghui, Xue xue, Qin yi, Sean, Jill, Shannon, Winona, Cylene, Jiji, Vera... This is for you!
Know that I love every single o
ne of you! :)