Hello! I think I have missed out on announcing that I'm having a giveaway because the previous post was the 100th post! So I'll make it the 101th post giveaway! =) I'm gonna give away some of my favourite tiny prima roses and flowers, pearl strings, trinket pins from Maya road, a few Webster papers, little charms and a set of thickers! Most of them are the usual items I reach out for when I scrap! All you have to do is to leave a comment here and I'll draw a winner by next Sunday 12 midnight (Singapore time). I've a small request for the winner of the giveaway though! That is to scrap something out of the stash I'm giving out and share with us! I can't wait to see what you can come up with! :) Before I go, I'm gonna share some layouts. Thank God for the recent mojo, I've much to share!
Mr & Mrs Santa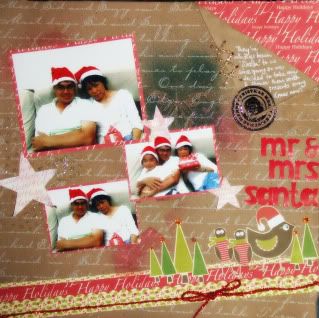 A cute Christmas layout of my parents wearing those cute Santa hats for the first time!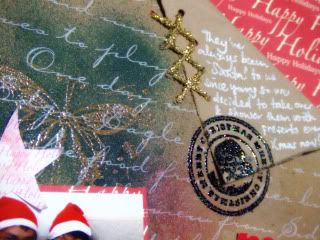 I just realised I love to hand cut images out of paper. It's kind of a random discovery during the crop! lol Anyway I forgot to take pictures during the crop so I'm going to 'steal' the photos from MWL blog to share here soon! I dressed up as a grid girl or racequeen whatever you call it. And I won the best dressed!!
Love knows not what time is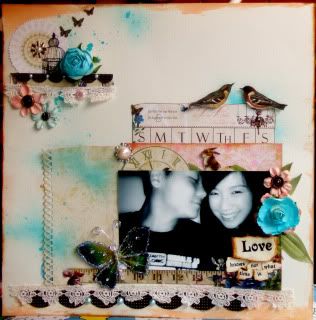 What a romantic title! I should've used this layout for a photo of the boyfriend and I but my friendship with this guy is priceless. lol It's Lionel's birthday and so I scrapped this layout and fell in love with it! His girlfriend wrote on my facebook wall and commented that she loved it too!
Oh I realised I love to ink too.
This little shelf is my favourite! :) Ps: I'm totally in love with the new webster papers! I think I've said it before but I just can't stop mentioning how beautiful they are. I feel so bad for neglecting the other papers but they're just too attractive to ignore.
not your typical kind of girl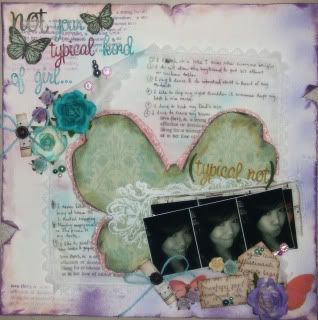 This is done for Emeline's mid-month challenge and it's real fun! Check out the other entries
here
. The criteria is to use two non-scrapbooking supplies in your layout. I use the white handkerchief and music scores from my old piano book in this layout. I know I'm kind of cheating with the music scores because they appear in papers from time to time but mine is authentically a real music score!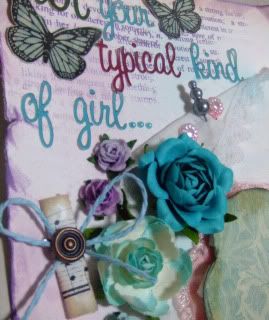 Oh yes. I want to share the journaling here. It's quite funny listing out why I'm not your typical kind of girl. Now the world will know all my quirky habits. HAHA Here it goes: 1. I laugh at a joke 5 minutes after everyone laughs. 2. I do not allow the boyfriend to place his elbows on unclean tables while dining. (He has to eat with his elbows in mid-air like me!) No he doesn't call me Evil, he calls me Anal and proceeds to tell friends whom we're dining with that he's going to dive into the sink to take a bath after meal. -.-'' 3. I sing and dance and do retarded stuff in front of my tuition kids when the need arises. 4. I've this balancing habit. I like to slap my right shoulder if someone slaps on my left and vice versa. WEIRD I know! I've been badly abused ever since the boyfriend spilled the beans in front of my tuition kids.. 5. I love to kick Dad's ass. Don't ask me why! 6. I love to scare Mum because she gives pretty good response. 7. I like playing really sappy music on the piano and look melancholic. 8. I never like being at home till I started scrapping. Everytime we've a public holiday, I tell the boyfriend, "My home or the scrapbook store, the choice is yours!" then gives the sweetest smile possible. :) 9. I like to smell new books and papers or anything new.
Do you have any WEIRD habits to share? I want to know that I'm not alone. :P