I turned 24 on 22nd October. It's a love-hate relationship.
The love:
1) I've finally gotten my OWN car! It's a Huge relief, becuase it's not for luxury's sake. Going to and fro from Pasir Ris to Bukit Batok almost 4 times a week is taking its toll on me after 5 years of travelling 3 hours each day. Having fainting spells from motion sickness simply devastates the already uncomfortable commuting of having to squeeze in crowded trains and having to catch the last train home after a long day of work. Trust me when I say it's more of a relief than simply showing off.
I know I may sound pious but I've been humbled by Jesus so much that showing off is the last thing on my mind when I do everything nowadays. I think I've been so blessed to have God in my life so that I stay grounded and faithful in the walk with him. It's really really important!
2) I've finally changed my phone of 7 years! I know my lovely Samsung phone has been nothing short of wonderful the past 7 years. Really, how on earth can you find a phone that lasts for 7 years and counting!?!! It's still working but it has starting showing signs of aging, just like its owner! LOL Since my mobile contract has ended, I can finally get my hands on the iphone! I'm still trying to get used to it but it's been qutie a pleasure so far. :)
3) Most importantly, I have grown a lot since my turbulent teenage years. I get that a lot from people around me and even I feel it myself. All I can say is THANKS for all your encouragement and I'll give all glory to my Father in Heaven, who has been paving the way for me to grow into who I am right now.
He gave me strength when I need it the most and as a result I become stronger, assurance so that I do not worry, peace so that I can be clear-minded, forgiveness so that I can repent, joy so that I can spread his love, love so that I can dispel hatred. I am still learning, with God's love, nothing is impossible!
So what's there not to love about being 24?
1) I need to be more responsible. Towards my work and my family and friends. I've been one inconsiderate selfish girl and it's easy to forgive me when I was younger. The grace period is up, I really need to be more accountable.
2) Age is catching up. My body isn't what it used to be. I dunno if you feel that in your mid-twenties but I feel lethargic easily. I need 12 hours of sleep everyday or else I'll feel light-headed and tired the whole day. I can no longer keep up with my tuition kids when we play basketball or tennis. I just can't breathe after half an hour.. Arrgh gotta start working on my stamina!
3) I'm STILL a procrastinator. I procrastinate packing up the room (not packed since last year!), I procrastinate saving up for my business (this is the worst because I can't stop hoarding papers), I procrastinate clearing away the clothes and shoes that I no longer wear (big headache as I've problems storing new arrivals!), I procrastinate even bathing every night (I'll wait till the last hour before I sleep before I sleepily drag myself to the bathroom to have a quick shower and go to bed with half-dried hair). Everyone who knows me knows this really BAD habit of mine!!
Gosh, enough shortcomings about myself for today! I've not been scrapping for a looooong time but I've photos of my birthday party to share!! :)
Siti and my cousin Ah mei preparing the food for the day!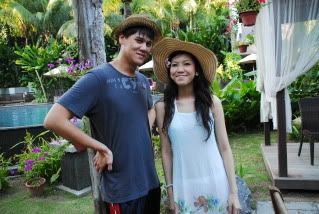 Meet our new hats!! :)
My aunt and I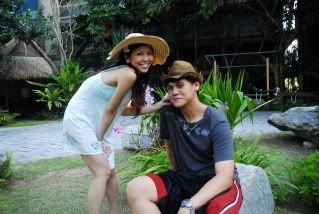 One of my favourites!
Now for the spastic pictures of Miao & me!
My cute cousins! I heart them.
Cajoling the kids to pose for the camera!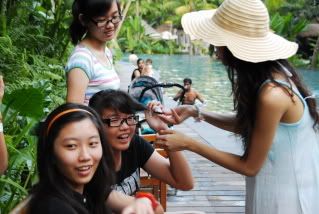 Yeah finally a decent shot!
Guess what we're looking at?
My Mummy and Daddy looking good.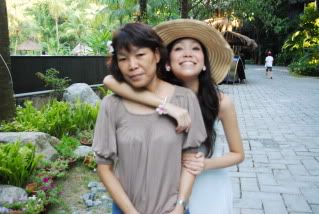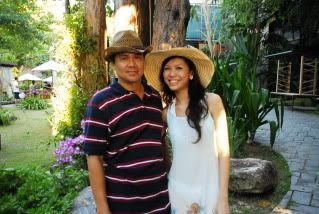 My favourites of the lot: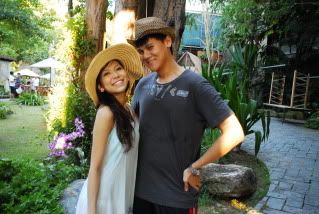 The beautiful photos are taken by Miao who only stayed for an hour or so! Will be uploading more photos from my camera.
Take care everyone and I'll get back to scrapping soon!
Just in case u're wondering, I've not forgotten about the giveaway!!
Sooo sorry for not posting the winner yet, will be back real soon! :)