Good Thursday friends!!
I've been really busy with the CNY (Chinese New Year) preparations thus the MIA for a more than a week!
Valentine's day is around the corner (coincidentally on the same day as the first day of CNY) but I didn't get even a single Vday project done!!
I can't believe it but time just kept slipping past me and I've no means to even get proper sleep and rest recently.
So what's keeping me busy?
A swimwear photoshoot last weekend for a Hongkong magazine so I went through the dreadful motions of getting my whole body waxed, doing my nails and toenails, and yes, getting a haircut!!
I've not entered a hair salon for more than half a year! LOL
This shows you how lazy I am!
Preparing for my very first scrap class for little girls below 5, a session for one of the little princesses' birthday!
I have no idea that planning takes up so much time and effort!
I'm still trying to figure out what 5 year olds can do and can't do, just so I won't over or under-estimate their abilities to scrap up a storm!
Any kind mummy with 5 year olds care to share more on that?
I'm also preparing my students for the upcoming Term 1 tests which are definitely going to suck years out of my already-shortened life!
Arrgh, that's the real pain!
And the procrastinator streak in me continues as I have not yet finished organizing my room.
I just don't have the heart to throw my precious books, scrap supplies I don't use often, clothes I don't wear anymore, old gadgets like my first cellphone, and other lovelies with sentimental value..
They mean SO much to me, the thought of housing them in the dumps just doesn't sit well with me.
Can you feel the agony in me?!
Lastly, I've been thinking of starting something that I've been contemplating for months..
I've no confidence if I can handle it but I know my life will be full of regrets if I don't even get it started..
That requires a large investment and I need lots of planning and energy to do it..
So if you've a teeny weeny time when doing your quiet time, will you please pray for me?
I'll be really grateful for that! :)
Anyway..
I still have more Webster's pages to share!
Challenge #3 for
Dirty Scrap
is up!!
Broken, that's the key word for this week...
we all have broken relationships, whether it be an ex boyfriend, an ex husband/wife, a broken relationship with a friend, or even God.
So this week's challenge is to scrap a broken relationship.
Heck you could have broken off your relationship with cigaret
tes, or Dr. Pepper! LOL
Make the challenge work for YOU, after all its' YOUR book and YOUR page, just get down and deep or have fun and make it light~
This is my take on it!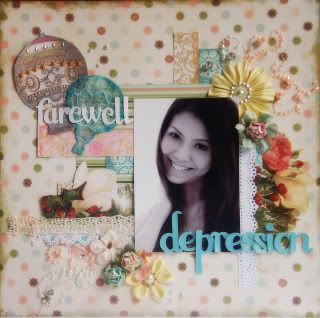 My hidden journaling:
Why should we be depressed over the people of this world who will sadly but surly fail us?
Why should we be depressed over not having what we really want but do not need?
Sometimes, we're just too comfortable with the feeling of being depressed simply because we dare not face the road ahead bravely.
The day finally came when I decided to get over the ruminating, the depression and the uncomfortable comfort of living my life this way.
Days of turning in and waking up with suicidal thoughts have now converted into days of turning in and waking up with thankfulness and the assurance that God & his unfailing love will make things right.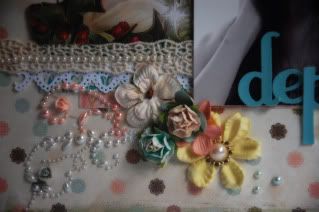 Now go get DIRTY!