The winner of the RAK is...
True Random Number Generator
5
Powered by RANDOM.ORG
The Crazy World! said...

Hey! SCARPAHOLIC!! WISH you a happy blog anniversary!!! you are really a wonderul tutor and a different tutor!! you really sacrifice lots of ur time jus to plan outings for us!!! THank You very much!!1
Please email me your address at wuling_18@hotmail.com so that I can mail these out to you! :)
After days of contemplation, I've decided to try out for MWL's DT call again! The deadline is on Thursday and now I'm in a panic as I've to rush out a layout featuring Sizzix products! I'm seriously drained out as I worked the whole night of whopping 8 hours on this Maya road house without rest! I wonder if I can ever beat this record! This is how messy my desk looked at 4am last night!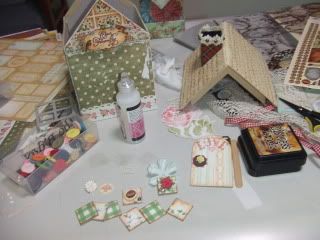 I will probably update again tonight with pictures of the house. Thanks for dropping by!!! :)