If you think scrapping takes a backseat during my exam period, you definitely do not know me well enough! I've been scrapping in the sly, even during the exam week! Naughty me! I'm just lagging in taking pictures of my layouts to post them up. These are the 3-week-old layouts to share. I've been wanting to scrap a multi-photo layout with the pictures I took with the kids when I brought them to play at the Jurong swimming complex last year. It's really great fun to bring them out after the mid-year exams and this year I'm bringing them to botanical gardens. I can't wait! :)
details:
This is given to Mr Patient boyfriend, who waited a few weeks for me to take pictures of it before he could finally display it in his room!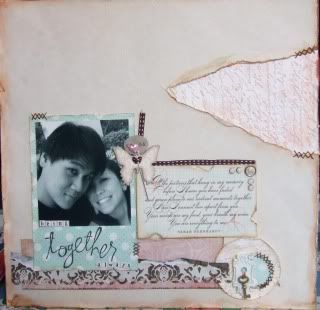 Details:
Super in love with the cuttlebug embossing dies. Hee Gonna upload the rest of the layouts I've done soon. I'm leaving a sneak peek of the layout I did for my mum for Mother's day.
Goodnight world, I'm going to enjoy a long one week's break before I start teaching again, I'm grinning from ear to ear as I'm typing this. =)