Hi sweet ladies,
thanks so much for leaving sweet notes of love, keep them coming!
I really appreciate them greatly!!
Yesterday was the reveal of Dirty Scraps challenge #2 and this is my very first layout for DIrty Scraps!
It's titled 'Broken'.
The only journaling on this layout is placed across the title, 'as BROKEN as you want it to be'.
This serves as a reminder to me about how affected we are by others depends on how much you want others to affect you.
I've been through countless broken relationships, many of which are on the road of no return.
Sure I mourned about them day and night, even after years..
It's alright to be broken, really!
But it's not alright to remain broken because things will only become better when you reach the bottom of the pit, won't it?
So, if you're feeling broken right now, over the loss of a loved one, a painful break-up or a sudden desertion by close friends, let your hair loose and scream or cry.
Then, leave those baggages behind and move on to bigger, better things!
Here are some close-ups: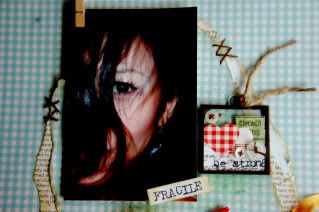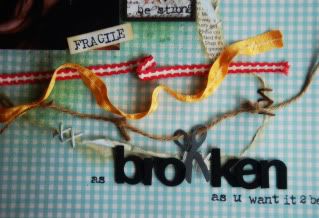 Check out the tutorial for this layout at
Dirty Scraps
now!
Just a side note,
I mess my hair up very often. Lol
I mess it when I'm embarrassed,
when I'm frustrated,
when I'm broken,
when I'm feeling zany,
when I want to attract attention from the boyfriend.
Have a blessed day! :)